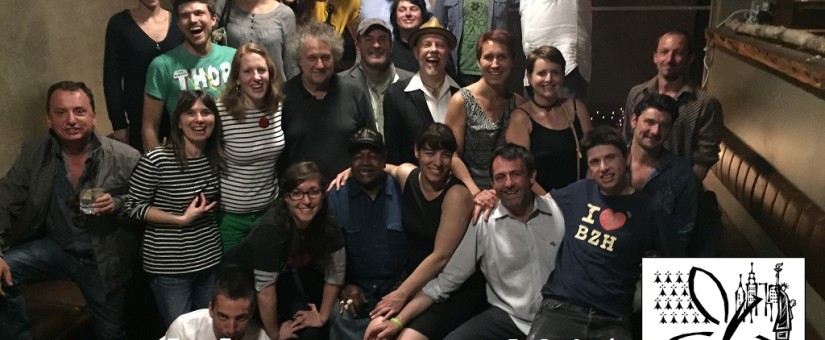 Posted by bzhny
On May 25, 2015
0 Comments
Association, Bretagne, Bretons, Brittany, BZH New York, BZHNY, Celtic Social club, Charity, Community, crepes, Culture, events, Fête de la Bretagne, Food, France, Les vieilles Charues, Meeting, Meetup, Music, New York, Organization
This year BZH New York had partnered with the Les Vieilles Charrues Festival, the largest music festival in France, to introduced The Celtic Social Club to the New York public!
We offered four days of celebrations. Thanks to all volunteers who helps us and everyone who came and made this year a success!
 "Souvenirs/Memories"
Thursday May 14  – Press conference – "Brittany, a lands of festivals"
Jérôme Trehorel, General Manager of Vieilles Charrues Festival.
After a short presentation showcasing the dense network of festivals in Brittany, Mr Trehorel detailed the origin of the Vieilles Charrues festival as well as its business model and spirit. He answered all questions related to the festival which in 20 years has become the largest music festival in France.
 A large panel of American journalist was here, they talk about it…

Friday May 15 – Business network – "Les Vieilles Charrues & Partners"
JérômeTrehorel presented, to an audience of entrepreneurs, the unique business model of the festival, the opportunities for partnership, the economic benefits as well as social and cultural benefits to become partner of the largest music festival in France.
The Celtic Social Club recorded a live and acoustic album in the Concert Space. Around 70 people enjoyed  an unforgettable experience!
Sunday May 17 –"Brittany Day" – By BZH New York

The M1-5 is one of Tribeca's best hangouts. BZH New York fully reserved the club and transformed the space into a mini Brittany. On the stage, two bands performed prior to the Celtic Social Club set scheduled at 8PM.
Crepes, oysters and other specialties have been prepared on-site!
But also…

Tuesday May 12 IC Will, a New York rapper who used to sing with The Celtic Social Club, was in Brooklyn shooting some video for coming film "The Celtic Social Club in New York"!
IC Will performed with the band during our Celtic Social Club "Unplugged" live concert.
Les Vieilles Charues festival in New York?
Jérôme Trehorel, General Manager of Vieilles Charrues Festival with BZH New York board (Bernard Le Bris, Laurent Corbel, Veronique Gautier, Simon Herfray).
The biggest music festival in Europe may be interested to plan "one day event" in New York soon! They talk about it…
Videos…
A day in Brooklyn with I.C.Will
"Brittany Day"
"Brittany Day"
Celtic Social Club Unplugged
Press conference – "Brittany, a lands of festivals"